February 18th, 2022
The last two years have taken a toll on everyone to some degree, and it is OKAY and really important to get help if you need it.  The pandemic has obviously been disruptive for many and tragic for some and we want you to know that while we are not psychiatrists here at South Macomb Internal Medicine we can help point you to the help you need.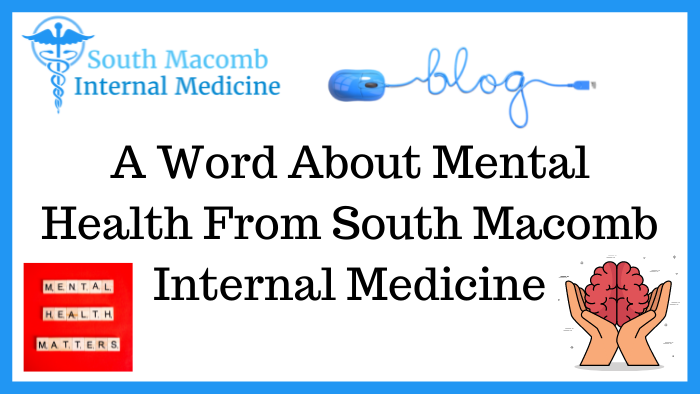 A Word About Mental Health
There have been multiple stories in the news lately about healthcare workers being threatened and intimidated for doing their jobs, and that this has been on the rise since Covid-19 arrived.  The president of the American Medical Association wrote a piece about this just a couple weeks ago.  There are also stories like this one yesterday about how Covid survivors are more likely to suffer from depression.
Listen, this is NOT about politics or opinions on the pandemic or vaccines or any of that.  It's simply an acknowledgement that the last two years have presented some challenges for all of us and we want to HELP.
PLEASE tell us if you are struggling.  We will help you get the help you need.  In the meantime here are a couple of links that are here on our website for you to use if you need them:
Ascension Mental Health Resource Page
National Suicide Prevention Lifeline Website
Asking for help is absolutely NOT a sign of weakness of any sort.
***************************************************************************************************************************
South Macomb Internal Medicine
28401 Hoover Rd.  Warren, Michigan 48093
Phone: (586) 276-7530
South Macomb Internal Medicine has been designated a Patient Centered Medical Home by Blue Cross Blue Shield of Michigan.
Join us on Facebook at facebook.com/SMIMdoc for updates, articles and fun!
Call us and ask to be added to our email newsletter that comes out every couple weeks!
Telehealth and virtual appointments are still available.
Nutritional services are also available with Nanette Cameron, RDN. Don't forget to ask us for a $25 gift certificate for trying dietary services with Nanette the first time for patients who have insurance coverage!
Feel free to click on the categories and keywords below to find more content as we add more to the website!