April 23rd, 2021
Let's talk about allergies!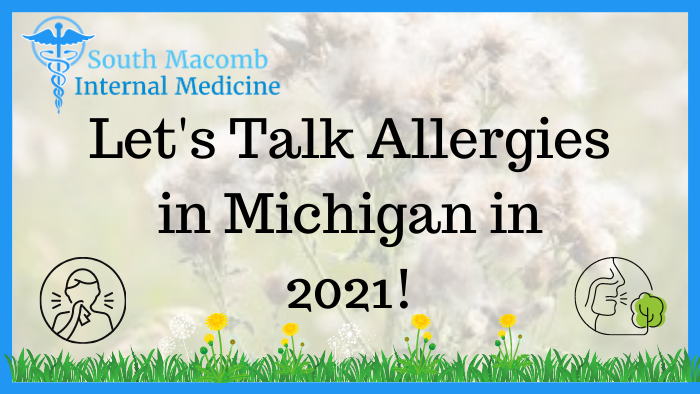 Allergy season is underway here in Michigan.  Allergies that occur in the spring are usually due to trees, allergies that occur in the summer are due to grass pollen and patients who are having allergy symptoms in the fall are largely allergic to ragweed.  It's not fun, and this article in the Detroit Free Press says Michigan allergy season is one of the worst we've had…
In a bit of a plot twist however, allergy experts say some of the 24 million Americans with seasonal allergies are experiencing less symptoms this year due to wearing a mask because of Covid-19!  How about you – are you noticing that it's better this year?  Worse?  Typical?  Is your mask helping?  Vaccinations are coming along but we're not fully there yet and for some people it's a little scary when you get any symptoms with Covid dominating so much space in our lives.  A recent article in HealthDay helps to breakdown the differences between allergies and Covid-19, and either way be sure to follow the CDC guidelines to be safe, and get your vaccine!  We can actually help you get the Pfizer vaccine scheduled so give us a call.
Meanwhile many allergies can be diagnosed with in-office testing. We offer skin tests for many common allergies, and send away lab tests when necessary. Skin allergy tests can be a very effective and quick diagnostic tool.
Skin testing involves introducing a small amount of allergen under the skin's surface by pricking the skin and inserting a small drop of the allergen extract. The skin test (scratch or prick test) is done with a sterile, disposable plastic prick testing device, generally on the arm or back. It garners a sensation that is described as slightly uncomfortable, although generally not painful. It is a quick testing procedure. If the patient is allergic to the substance being tested, some itching or redness may occur at the testing site.
Test results are typically available within half an hour and diagnosis and treatment plans can then be completed quickly. These are highly accurate and sensitive tests.
If you are scheduled for in-office allergy testing, please call our office to discuss any medications you are currently taking as some may prevent a diagnostic reaction.  If you are interested in more information about in-office allergy testing, please be in touch with any questions or to schedule.
If you use allergy drops to treat your allergies, we can arrange for at-home delivery through Allergen.
We hope you found this valuable and we are here to help!
***************************************************************************************************************************
South Macomb Internal Medicine
28401 Hoover Rd.  Warren, Michigan 48093
Phone: (586) 276-7530
South Macomb Internal Medicine has been designated a Patient Centered Medical Home by Blue Cross Blue Shield of Michigan.
Call us and ask to be added to our email newsletter that comes out every couple weeks!
Telehealth and virtual appointments are still available as well as nutritional services with Nanette Cameron, RDN. Don't forget to ask us for a $25 gift certificate along with a copy of Nanette Cameron's cookbook The Perfect Day for trying dietary services with Nanette the first time for patients who have insurance coverage! Nanette is also available virtually!
Feel free to click on the categories and keywords below to find more content as we add more to the website!