July 2nd, 2021
By Dr. Scot Goldberg, MD
We recently shared an article on Facebook from the American Medical Association about the new and vital role that we physicians have had to take on with the Covid-19 pandemic:  Covid vaccine myth-busters.  We really don't mind taking on this role since it's part of our responsibility to explain many matters of health and medicine, and the Covid-19 is an important one.  Now, hopefully as the pandemic draws to a "close" (threats from the new variants notwithstanding) this will be one of the last if not the last article I'll need to write about it.  But as close as we are to the finish line, we could still use that final push and that's some cushion towards herd immunity with more vaccinations.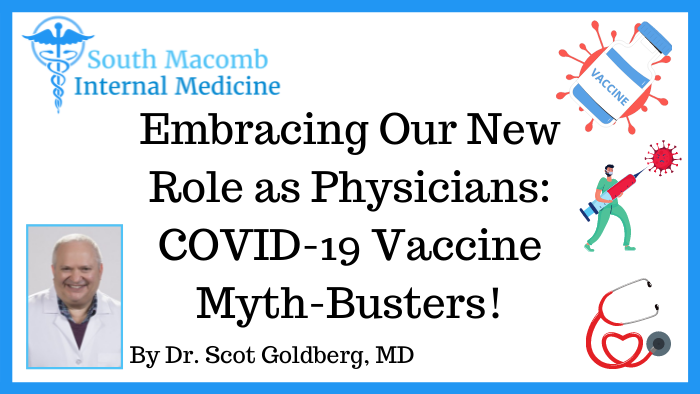 Being COVID-19 Vaccine Myth-Busters
Being a myth-buster hasn't been easy.  Misinformation online has caused some people to dig in and buy in to some prevalent falsehoods out there and certainly the stress of the pandemic has fueled the intense emotions people feel towards this topic.  We understand this!  We understand and respect that people have different viewpoints on many things.  We don't begrudge people who have struggled with this out of fear and frustration.
When people question the safety of the vaccines we have always encouraged these folks to call on us if they want to discuss or need our help.  My point here is we just want to address the fact that we take this seriously, and we're aware that we often act as a sounding board.  We're supposed to be the professionals here and that's what we intend to do – be professional and stick to the science like we've been trained to do.  We don't pretend to know everything.  No one knows everything.  But we do know a lot, and we're passionate about treating people and helping people with their health.
I'd also like to say that if you genuinely have concerns about the vaccine and you've held off on getting it as a result that's OKAY.  Please call us and tell us about your concerns.  We will share everything we can to help you make an informed decision.  We can't force you to get the vaccine.  But we embrace being COVID-19 vaccine myth-busters.  We can answer your questions objectively with science, knowledge and experience.
And who knows…. you just might hit the jackpot if you get the vaccine…
***************************************************************************************************************************
South Macomb Internal Medicine
28401 Hoover Rd.  Warren, Michigan 48093
Phone: (586) 276-7530
South Macomb Internal Medicine has been designated a Patient Centered Medical Home by Blue Cross Blue Shield of Michigan.
Join us on Facebook at facebook.com/SMIMdoc for updates, articles and fun!
Call us and ask to be added to our email newsletter that comes out every couple weeks!
Telehealth and virtual appointments are still available.
Nutritional services are also available with Nanette Cameron, RDN. Don't forget to ask us for a $25 gift certificate for trying dietary services with Nanette the first time for patients who have insurance coverage!
Feel free to click on the categories and keywords below to find more content as we add more to the website!