March 24th, 2021
By Dr. Scot Goldberg, MD
A year into the pandemic we are finally in the home stretch in terms of the vaccination rollout and getting back to a lasting bit of normalcy.  We clearly can't let our guard down just yet with the virus currently surging in Michigan – and that's not just some "disclaimer" – that's serious.
But having said that the vaccine rollout is indeed rolling out – as of today 6000 doses per day are being administered just at Ford Field alone.  So we came across a great article about the vaccine(s) and with permission from the author I want to share it here and point out a few things.
The Vaccine Is Becoming Available To All & Here Is Why You Should Get It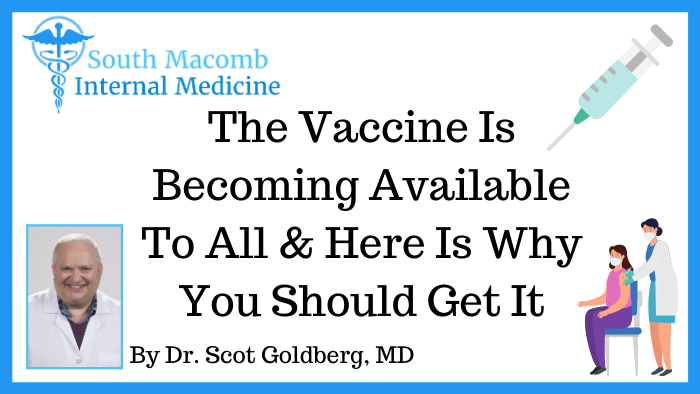 So here is the article I'm referring to:
Click the link above and give it a read.  The "mistake" is not getting the vaccine.  The doctor is
Deborah Lee, MD
.
This was written in February as the vaccine rollout was beginning but before it was available to vast segments of the population like it is now, so it bears repeating at this moment since more of us are able to get it.
The first few reasons are general facts about vaccines – they save lives, can eradicate diseases or at limit greatly viral infections from them and keep us from getting infected at all.  We know this.  Smallpox was wiped off the planet with a vaccine.
Every one of Dr. Lee's 14 main points in this article are well put and important for you to read, including addressing folks who are immunocompromised and vaccine safety basics, but in the age of social media and sources of misinformation we want to call particular attention to number 11: "Debunking Vaccine Myths".  Some of these myths are more ludicrous than others and we've seen worse – even in the comments of our own posts on Facebook once in a while!
Here is point #11 – from the article with permission:
Debunking Vaccine Myths
There are a whole host of incorrect facts being bandied about regarding the COVID vaccine. Please take a look at the following statements and rest assured these are all telling the truth:
The COVID vaccine will not change your DNA
The COVID vaccine does not contain material from a dead fetus
The COVID vaccine does not contain heavy metals
The COVID vaccine does not contain  a microchip
Vaccines are not a cause of autism
Just because the vaccine was produced in record time does not mean its not safe
If you want more details about all these points see this extremely eloquent post by Chris York at The Huffington Post.
So please, make an appointment.  Get the vaccine.  For your health and your protection.  For your fellow humans.  For the greater good and a back to normal life for all of us.
***************************************************************************************************************************
South Macomb Internal Medicine
28401 Hoover Rd.  Warren, Michigan 48093
Phone: (586) 276-7530
South Macomb Internal Medicine has been designated a Patient Centered Medical Home by Blue Cross Blue Shield of Michigan.
Join us on Facebook at facebook.com/SMIMdoc for updates, articles and fun!
Call us and ask to be added to our email newsletter that comes out every couple weeks!
Telehealth and virtual appointments are still available as well as nutritional services with Nanette Cameron, RDN. Don't forget to ask us for a $25 gift certificate along with a copy of Nanette Cameron's cookbook The Perfect Day for trying dietary services with Nanette the first time for patients who have insurance coverage! Nanette is also available virtually!
Feel free to click on the categories and keywords below to find more content as we add more to the website!