October 22nd, 2021
By Dr. Scot Goldberg, MD
Hello everyone!  This is part 3 of a series around how we work towards improving the patient experience!  Part 2 related to checking your blood pressure, and here we are going to discuss the importance of checking your Hgb A1c for diabetes!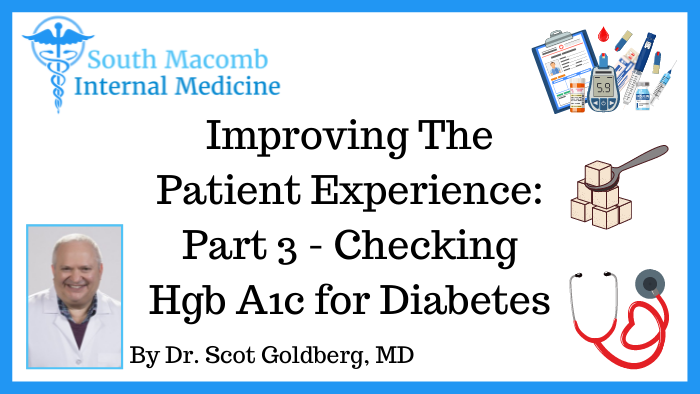 We should be screening for diabetes at age 35, and the way we do this is with a blood test called the hemoglobin A1c.  If that is elevated past 6.0 then we recheck in one year.  From 6.0 – 7.0 is considered "pre-diabetes" and over 7.0 is considered diabetes.  For pre-diabetes we treat it with diet and exercise and over 7.0 we add medications to the course of treatment.
As for diet and exercise we've mentioned here before that we recommend you exercise 30 minutes per day 5 times per week, and we have the resources to help you with your diet.  You can see our nutritionist Nanette Cameron – she's fantastic!
So why do we need to treat diabetes?
Most people think that the acute care of diabetes or the blood sugar is more important than chronic care.  For very high sugars people will have increased thirst, urination, and generally poor feeling.  But actually chronic care of diabetes is much more important.  Diabetes is the leading cause of stroke, heart attacks, kidney failure and as a matter of fact can cause problems with any organ if left untreated.
So what is the treatment?
Treatment for diabetes has moved way past insulin shots.  We have even moved past sulfonylurea, metformin and older diabetic medications.  Although these medications have been around for decades and have been shown to be safe, effective and well tolerated, we now have newer medications that are even more effective and safer.  These medications include GLP1 (glucagon-like peptide-1 receptor agonists), or SGLT-2 inhibitors (sodium glucose cotransporter-2 inhibitors).  If that seems like a lot of acronyms and big words don't worry – there won't be a test… haha.  Let me explain:
GLP1's come as a daily oral medication or a weekly self-injection.  Most patients prefer the weekly self-injection for convenience.  This class of medication works very well and has the added benefit of significant weight loss.
SGLT-2 inhibitors come as a daily oral medication as well.  It lowers the sugar thresholds in the kidneys so excess sugar in the blood stream is removed via urination.  The newest data shows that it is very effective and prevents heart and kidney disease even in patients who are not diabetic.
***************************************************************************************************************************
Improving The Patient Experience
A little background on this initiative and some highlights as outlined by Blue Cross Blue Shield of Michigan:
Medicare Star Ratings is a rating system developed by the Centers for Medicare & Medicaid Services to help consumers find the best Medicare Advantage plan for them. Blue Cross Blue Shield of Michigan has two MA plans – Medicare Plus Blue℠ for its PPO members and BCN Advantage℠ for its HMO members.
CMS assesses a member's health plan experience through the Consumer Assessment of Healthcare Providers and Systems, or CAHPS, member survey. The survey asks patients to report on their experiences with a wide range of health care services. A large portion of the CAHPS survey is driven by the member's experience with his or her physician's team, including such things as follow-up on labs and imaging, and getting timely doctor appointments.
And, most importantly for patients, a positive patient experience results in better adherence to protocol, better relationships with health care providers and a feeling of mutual respect between them and their medical team.
***************************************************************************************************************************
South Macomb Internal Medicine
28401 Hoover Rd.  Warren, Michigan 48093
Phone: (586) 276-7530
South Macomb Internal Medicine has been designated a Patient Centered Medical Home by Blue Cross Blue Shield of Michigan.
Join us on Facebook at facebook.com/SMIMdoc!
Feel free to click on the categories and keywords below to find more content as we add more to the website!