October 8th, 2021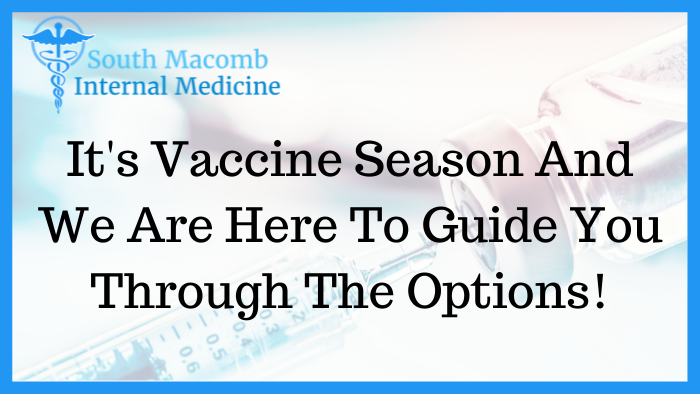 Yes it's that season again.
Okay actually we are talking about VACCINE SEASON.  Hehe…
The Flu virus for example lives longer indoors in the winter, so we are just taking a quick break from our Improving The Patient Experience series to discuss vaccines and answer a few frequently asked questions.  Please keep in mind that this post isn't meant to be the final word on all vaccines, and that we encourage you to call and ask us if you have additional questions!
Vaccine Season and Your Options:
Let's address a few vaccines that you may already be considering and/or should consider.
Flu:  Flu shots are indeed safe and effective, are available for people over the age of 6 months and you can safely get one even if you're egg allergic.  Folks over 65 can get the high dose vaccine which is a quadruple dose.  If you have any questions about the flu vaccine please let us know and you can make an appointment to get one with us.  Here is the CDC guidance on Flu vaccines.
Covid-19:  The Covid-19 vaccines are safe and effective so please get one if you still have not.  If you have any questions about them please ask, and if you are over 65 please schedule a booster – a third dose of the Pfizer vaccine if it has been 6 months since your second dose.  For now this is for those who have had the Pfizer vaccine, and you cannot mix them.  In other words if you had two doses of the Moderna vaccine you cannot get the Pfizer vaccine for your booster dose.  The Covid-19 vaccines and the Flu vaccines are safe to get at the same time, but the Covid-19 vaccine is not administered at our office.  They are available at other locations including some pharmacies.  Call us and we can help you with that, and here is the CDC guidance on Covid-19 vaccines.
Shingles, Pneumonia, and Tetanus are all available as well.  Here is the CDC guidance on Shingles, Pneumonia and Tetanus.
There are other diseases which are preventable with vaccines, so if you have questions about any of them please call us and we can advise you, and here is the CDC guidance on all the available vaccines as well.
Please take care of yourselves this vaccine season as the weather starts to get colder, and we are here to help!
***************************************************************************************************************************
South Macomb Internal Medicine
28401 Hoover Rd.  Warren, Michigan 48093
Phone: (586) 276-7530
South Macomb Internal Medicine has been designated a Patient Centered Medical Home by Blue Cross Blue Shield of Michigan.
Join us on Facebook at facebook.com/SMIMdoc!
Feel free to click on the categories and keywords below to find more content as we add more to the website!