December 3rd, 2021
By Dr. Scot Goldberg, MD
Hello everyone!  This is part 6 of a series around how we work towards improving the patient experience!  Part 5 was on treating urinary incontinence, and today we will discuss performing an assessment of a patient's medication compliance and ability to pay for medications, changing prescriptions as appropriate and letting them know about avenues to explore if they need financial help.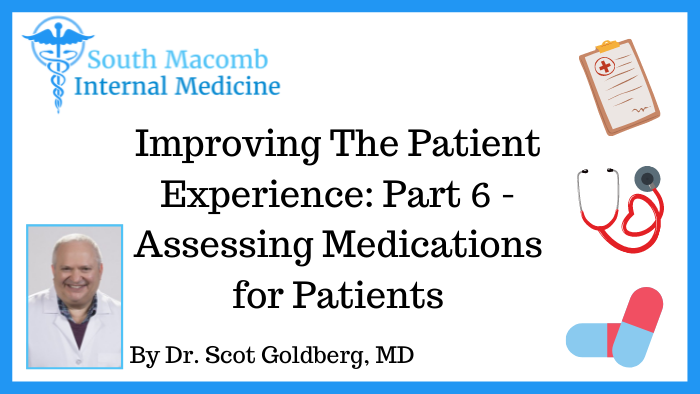 Assessing Medications, Compliance, and the right Prescriptions
Part of a routine medical visit is an assessment of a patient's medications.  Medications can be very expensive and the newer better medications are often out of financial reach for most patients.  For example the newer diabetic medications are better than the old ones but they are pricier, so we are always evaluating them to try to strike that balance between cost and effectiveness in the best interests of our patients.  This also includes tracking potential efficacy and side effects of these medications.  In other words we want to make sure they work and that they won't cause other problems.  We will typically call into the pharmacies to find out coverage to see what we can prescribe for different situations.  We also keep an electronic log and we keep up with the pharmacies to ensure that they are filling the prescriptions properly!
There are some specific avenues we frequently explore to help our patients get their prescriptions:
We have the good RX cards that the patient can use to price out prescriptions.
The Canadian Pharmacy is less expensive in many cases and sometimes we will help steer them in that direction.
Patients can check insurance guidelines where some insurances are less expensive for filling 90 day's worth of a medication than 30 days.
We have copay cards available for some prescriptions.
We know medications can be expensive, we are aware they have side effects, and we are aware that they are being marketed to you at every turn, but rest assured we are here to help you navigate it and get the best care with the right medications for you!
***************************************************************************************************************************
Improving The Patient Experience
A little background on this initiative and some highlights as outlined by Blue Cross Blue Shield of Michigan:
Medicare Star Ratings is a rating system developed by the Centers for Medicare & Medicaid Services to help consumers find the best Medicare Advantage plan for them. Blue Cross Blue Shield of Michigan has two MA plans – Medicare Plus Blue℠ for its PPO members and BCN Advantage℠ for its HMO members.
CMS assesses a member's health plan experience through the Consumer Assessment of Healthcare Providers and Systems, or CAHPS, member survey. The survey asks patients to report on their experiences with a wide range of health care services. A large portion of the CAHPS survey is driven by the member's experience with his or her physician's team, including such things as follow-up on labs and imaging, and getting timely doctor appointments.
And, most importantly for patients, a positive patient experience results in better adherence to protocol, better relationships with health care providers and a feeling of mutual respect between them and their medical team.
***************************************************************************************************************************
South Macomb Internal Medicine
28401 Hoover Rd.  Warren, Michigan 48093
Phone: (586) 276-7530
South Macomb Internal Medicine has been designated a Patient Centered Medical Home by Blue Cross Blue Shield of Michigan.
Join us on Facebook at facebook.com/SMIMdoc!
Feel free to click on the categories and keywords below to find more content as we add more to the website!