November 5th, 2021
By Dr. Scot Goldberg, MD
Hello everyone!  This is part 4 of a series around how we work towards improving the patient experience!  Part 3 was on the importance of checking your Hgb A1c for diabetes, and today we will discuss the need to assess your physical activity and any associated risks based on your health!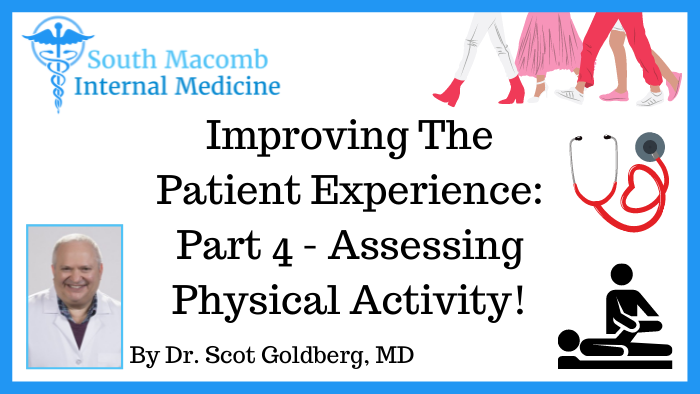 Assessing physical activity is very important because if people fall they can break their bones and cause a lot of other serious physical problems.  Part of a general medical evaluation is watching how people transfer from a chair to a standing position as well as how they walk.  In fact there have been studies that show that the time it takes to walk twenty feet, turnaround and come back can be a good indicator of an array of specific medical problems.  Once we have determined a patient is at risk for falls based on this measure and their level of physical activity there are specific recommendations that we can offer so that people can live safely by improving their strength, balance, nutrition and any other factors that may contribute to this risk.
Some of the courses of treatment may include:
Physical therapy – at home as well as at a physical therapy center.  This may include working to improve balance and mobility.  An at home evaluation can also be useful to make sure their home is sufficient to support their physical condition and any course of treatment going forward.  This can include the installation or use of certain equipment.
Adjusting current medications – sometimes patients are over or under medicated especially when it comes to diuretics (water pills) or blood pressure medications.  Many of these medications can affect a patient's mobility.
Lifestyle and nutrition changes.  A healthy lifestyle can help maximize outcomes here.  You are what you eat, and if you're adding too much alcohol or tobacco for example you may hinder your body's ability to thrive.
Be sure to check back for the next segment where we'll address urinary incontinence.
***************************************************************************************************************************
Improving The Patient Experience
A little background on this initiative and some highlights as outlined by Blue Cross Blue Shield of Michigan:
Medicare Star Ratings is a rating system developed by the Centers for Medicare & Medicaid Services to help consumers find the best Medicare Advantage plan for them. Blue Cross Blue Shield of Michigan has two MA plans – Medicare Plus Blue℠ for its PPO members and BCN Advantage℠ for its HMO members.
CMS assesses a member's health plan experience through the Consumer Assessment of Healthcare Providers and Systems, or CAHPS, member survey. The survey asks patients to report on their experiences with a wide range of health care services. A large portion of the CAHPS survey is driven by the member's experience with his or her physician's team, including such things as follow-up on labs and imaging, and getting timely doctor appointments.
And, most importantly for patients, a positive patient experience results in better adherence to protocol, better relationships with health care providers and a feeling of mutual respect between them and their medical team.
***************************************************************************************************************************
South Macomb Internal Medicine
28401 Hoover Rd.  Warren, Michigan 48093
Phone: (586) 276-7530
South Macomb Internal Medicine has been designated a Patient Centered Medical Home by Blue Cross Blue Shield of Michigan.
Join us on Facebook at facebook.com/SMIMdoc!
Feel free to click on the categories and keywords below to find more content as we add more to the website!