April 9th, 2021
We love the Internet.  We do!  Heck this piece is ON the Internet which is where you're reading it.  We share plenty of great information from all around the web here, on our Facebook page and in our email newsletter (call us to be added to it).  You can even get great and reliable medical information online from the CDC itself just as an example.  BUT – and this is a big but, do NOT use the Internet to self-diagnose if you need medical attention and the Internet is no substitute for a doctor.
Okay we got that out of the way.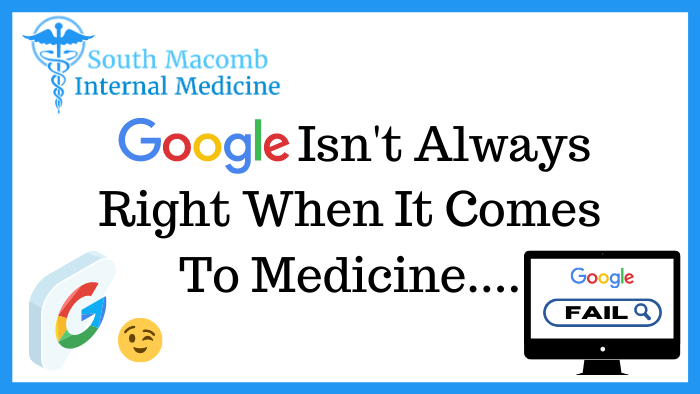 Now when it comes to a medical BLOG like the one you're reading right now a lot goes into writing and publishing these articles so that you're informed and even entertained.  And even a medical practice can look to the Internet for answers like we just did – you see we thought we would Google some good ideas for medical blog posts and well, let's just say Google doesn't seem to have understood the question.  Let's look at the first few results and ponder whether these are good suggestions shall we?
Let's take these one by one:
How To Guides:  Okay not horrible we suppose in theory, but how to draw blood, how to administer an EKG test?  Instructions for listening to someone's lungs?  I think we'll leave the how-to-ing to the doctors thanks.
Politics: YEAHHHH!  That's a GREAT idea right?  A healthy dose of politics on our blog?  That won't raise anyone's blood pressure….  Sheesh.  No.
Bacon:  Hello?  Now would that be responsible?  No.  No it would not.  Please limit your intake of bacon and we'll leave it at that.
Recipes:  Okay – now we're talking.  We already know this, and we talk nutrition here all the time with Nanette Cameron!
Beginner Guides:  From a doctor's office?  A beginner's guide to what?  Being a doctor?  Going to the doctor's office?  Nope that one doesn't seem to fit either.
Google FAIL right?  We guess we'll have to figure this one out on our own…. lol.
***************************************************************************************************************************
South Macomb Internal Medicine
28401 Hoover Rd.  Warren, Michigan 48093
Phone: (586) 276-7530
South Macomb Internal Medicine has been designated a Patient Centered Medical Home by Blue Cross Blue Shield of Michigan.
Join us on Facebook at facebook.com/SMIMdoc for updates, articles and fun!
Call us and ask to be added to our email newsletter that comes out every couple weeks!
Telehealth and virtual appointments are still available as well as nutritional services with Nanette Cameron, RDN. Don't forget to ask us for a $25 gift certificate along with a copy of Nanette Cameron's cookbook The Perfect Day for trying dietary services with Nanette the first time for patients who have insurance coverage! Nanette is also available virtually!
Feel free to click on the categories and keywords below to find more content as we add more to the website!