July 15th, 2021
We are always looking for topics to blog about, reading other blogs and writing our own blog and while searching the Internet we came across a list of 75 Top-Notch Medical Blogs Every Health Care Pro Should Know.  Some of them are great, some not quite as great, some really technical, and some are extinct already.  So in going through them we thought we would take the time to identify the 10 that we thought you should check out with the links to each one!  Click, read, learn and enjoy!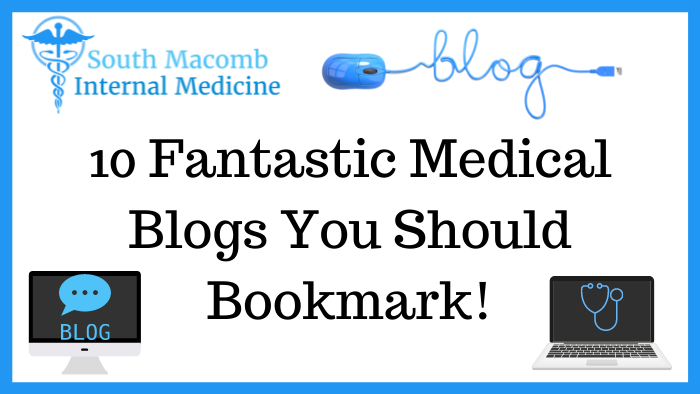 10 Fantastic Medical Blogs You Should Bookmark!
Harvard Health Blog  It's Harvard.  Enough said right?  This aesthetically pleasing blog covers a wide range of topics from a source you can trust.  Quality reads but they won't be over your head.  Whether it's heart health, nutrition, fitness, cancer research or more you'll find it all here.
Well  Similar approach to the Harvard blog in that a wide range of topics are covered.  This is the New York Times health blog and there are many articles that are topical to current events as well.
Health Essentials  This is the blog of the Cleveland Clinic and there are great articles here – including the first one we saw about a potential cure for peanut allergies in children!
KevinMD.com  This is the blog for us doctors!  Articles about the profession, the challenges, the rewards – written by doctors for doctors!
Medgadget  Fascinating stuff here about the latest in medical technology for you techies!  Want to know about the latest technique for minimally invasive diagnosis of thyroid cancer out of South Korea?  You'll find articles like this here!
Science Daily – Medical Technology News  Another in the cutting edge category like Medgadget – fascinating stuff here if you want to know the latest in technology.
Life Of A Med Student  We've highlighted the top medical schools on Facebook and we love to encourage our young people who are looking at a life in medicine – if you are one of those then this blog is for you!  Great advice here.
Medical XPress  This site reads like a newswire of up-to-date medical news and research.  Pretty cool – it tells you the age of each entry (1 hour ago, 4 hours ago…)!
Dr. Barnard – Physicians Committee  As you know we focus on nutrition here quite a bit with many posts here on this blog by Nanette Cameron, RDN.  This blog is nutrition focused with a food-as-medicine approach.
Global Health Council  This one helps put global health issues into perspective to help us understand how they impact us – how health concerns in certain countries can impact the rest of us.  Obviously topic has been important over the last year and as the world has gotten "smaller" it will continue to be.
So there you go!  So much great information that we can all use to be informed, take care of ourselves and each other and make the world a better and healthier place!  Which is your favorite?
***************************************************************************************************************************
South Macomb Internal Medicine
28401 Hoover Rd.  Warren, Michigan 48093
Phone: (586) 276-7530
South Macomb Internal Medicine has been designated a Patient Centered Medical Home by Blue Cross Blue Shield of Michigan.
Join us on Facebook at facebook.com/SMIMdoc for updates, articles and fun!
Call us and ask to be added to our email newsletter that comes out every couple weeks!
Telehealth and virtual appointments are still available.
Nutritional services are also available with Nanette Cameron, RDN. Don't forget to ask us for a $25 gift certificate for trying dietary services with Nanette the first time for patients who have insurance coverage!
Feel free to click on the categories and keywords below to find more content as we add more to the website!