January 29th,2021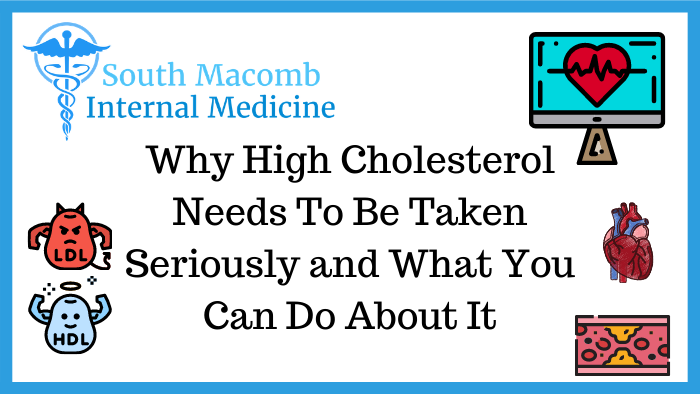 High Cholesterol is serious business
Cholesterol is a substance that exists in the lipids, or fats, in your blood and your body uses cholesterol to build healthy cells. However, having high cholesterol can increase your risk of heart disease.
A person with high cholesterol tends to develop fatty deposits in their blood vessels, which can eventually clog the vessels and make it difficult for enough blood to flow through the arteries. The heart in this situation may not get as much oxygen-rich blood as it needs, which increases the risk of a heart attack. Also, decreased blood flow to your brain may cause a stroke.
High cholesterol can be inherited, and it may often be the result of unhealthy lifestyle choices. It is largely preventable and treatable. A healthy diet, regular exercise and sometimes medication can go a long way toward reducing it.  Here is a recent article from Harvard Medical School entitled 11 Foods That Lower Cholesterol.  We also have Nanette Cameron available to help – she is our nutritionist and she has even published a cookbook called The Perfect Day.  Just ask us for a $25 gift certificate along with a copy of her book for trying dietary services with her the first time for patients who have insurance coverage!  Nanette is also available virtually!
NO SYMPTOMS
High cholesterol has no symptoms. A blood test is the only way to detect it.
Cholesterol test – A blood test is taken after you have fasted for a certain number of hours. It measures your total cholesterol, triglycerides, LDL, and HDL levels. Cholesterol's components — LDL, HDL, and triglycerides — work together for the healthy functioning of your body. But too much or too little of these fats can lead to artery damage and cardiovascular disease.
There are three main components of cholesterol:
LDL (low-density lipoprotein):  L for "lousy" cholesterol, because it can damage your cardiovascular system. LDL carries most of the cholesterol in the blood to be stored away for future use.
HDL (high-density lipoprotein): H for "healthy" cholesterol that carries cholesterol from the body to the liver, where it is eliminated.
Triglycerides: The most common type of fat in your body, triglycerides, transport (carry) and store fat in the blood. When you eat excess calories, especially sugar and alcohol, they are stored as triglycerides.
There are two main ways to manage cholesterol (many patients require both): medication and changes in lifestyle which we discussed earlier. Medications are commonly prescribed if you are at high risk for cardiovascular disease (CVD), or you are at moderate risk and have additional risk factors.
Our doctors will personally assess your individual situation and make
a plan that will help you manage your cholesterol effectively.
***************************************************************************************************************************
South Macomb Internal Medicine
28401 Hoover Rd.  Warren, Michigan 48093
Phone: (586) 276-7530
South Macomb Internal Medicine has been designated a Patient Centered Medical Home by Blue Cross Blue Shield of Michigan.
Join us on Facebook at facebook.com/SMIMdoc for updates, articles and fun!
Call us and ask to be added to our email newsletter that comes out every couple weeks!
Telehealth and virtual appointments are still available as well as nutritional services with Nanette Cameron, RDN. Don't forget to ask us for a $25 gift certificate along with a copy of Nanette Cameron's cookbook The Perfect Day for trying dietary services with Nanette the first time for patients who have insurance coverage! Nanette is also available virtually!
Feel free to click on the categories and keywords below to find more content as we add more to the website!