June 12th, 2021
By Nanette Cameron, RDN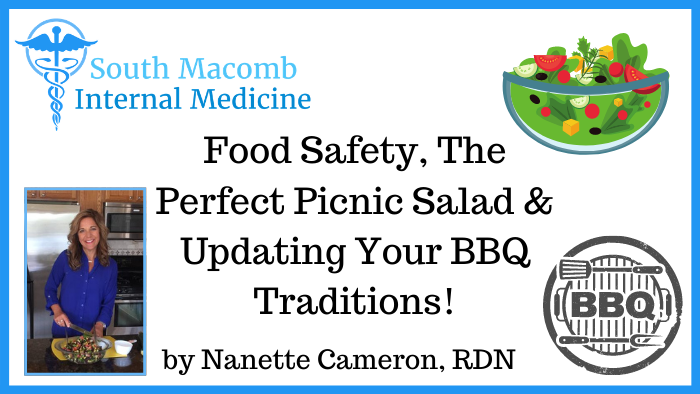 Picture this for a dose of wonderful nostalgia:
A nice summer day, the grill is fired up, the friends arrive with a couple dishes to pass like potato salad (yum), and a nice big seven layer dip with some deviled eggs!  The sun is out, the pool is refreshing, music is playing, the drinks are flowing…  And the hot dogs have just come off the grill with just the slightest bit of char, and the burgers are dripping with melted cheese.  Delicious!
What a day.  A couple hours go by and you notice that there is still food left.  You're going in for seconds.  The beer is on ice but the potato salad has been baking on the table in the hot sun next to the few remaining deviled eggs.  You grab another dog, put some potato salad on your plate and you're pretty sure no one is looking so you just pop another deviled egg while standing by the food so you don't get in trouble.  Hot dogs, burgers with a side of food poisoning from food borne illness makes for a great night of elevated cholesterol and indigestion with antacids for dessert – right?  Well actually the dessert was the pie and the cake that you ALWAYS have room for.  At 2 AM you're swearing you'll never do this again (until the next invitation).
If you are still doing this – you don't even have to admit out loud that you are – it's time to make some changes because this routine is absolutely dangerous short term AND long term and easily avoidable.  Long term because we know this is not a sustainable way to eat without consequences to your health such as high blood pressure, heart disease and diabetes.   Short term because food borne illness is very real and food safety is not practiced nearly enough.
Food Safety – 3 things you need to know:
Temperature: Danger zones are between 40 and 140 degrees.  A nice 80 degree day turns your potato salad into a petri dish – you need to keep cold food below 40 and heat hot food to above 140 to avoid food poisoning.
Time: Bacteria can start to grow on food within 2 hours.  Don't keep food sitting out that long.
Fully cooked:  So important to cook meats properly – chicken, pork and ground beef in particular should be cooked thoroughly – above 165 degrees for all three, and you can even use a thermometer to confirm they are cooked all the way through.
Time to update your old school BBQ traditions for the 21st century and the post-pandemic age now that we're gathering together again.  And since some time has passed since your old routine for these things, now is the perfect time to start anew with some fresh new habits.
Here are a couple of ways to do it:
Here are some tips for a healthy cookout at EatRight.org – take a minute to read this.  And here is my go-to salad that I make and bring with me when I'm invited to one!
PERFECT PICNIC SALAD
Makes 4 servings
1 Cup red grapes sliced in half
1 can (15 ounces) small white beans, drained
½ cup diced celery
¼ cup minced green onion, thoroughly washed before chopping
2 Tbsp. Chopped fresh parsley
Lemon mustard dressing
Lettuce leaves
Lemon Mustard dressing
Combine:
2 Tbsp. Canola oil or Olive oil
2 Tbsp. Lemon juice
1 tsp. Dijon mustard
¼ tsp. Salt 
¼ tsp. Pepper
Combine all ingredients except lettuce and dressing.  Mix well.  Add dressing and toss.  Serve over bed of lettuce.
Nutrition per serving:
| | |
| --- | --- |
| Calories | 248 |
| Protein | 10 g |
| Fat  | 8 g |
| Carbohydrates | 37 g |
| Fiber | 9 g |
| Sodium | 170 mg |
I hope you start on your path to a healthy summer with friends and family!
***************************************************************************************************************************
South Macomb Internal Medicine
28401 Hoover Rd.  Warren, Michigan 48093
Phone: (586) 276-7530
South Macomb Internal Medicine has been designated a Patient Centered Medical Home by Blue Cross Blue Shield of Michigan.
Join us on Facebook at facebook.com/SMIMdoc for updates, articles and fun!
Call us and ask to be added to our email newsletter that comes out every couple weeks!
Telehealth and virtual appointments are still available.
Nutritional services are also available with Nanette Cameron, RDN. Don't forget to ask us for a $25 gift certificate for trying dietary services with Nanette the first time for patients who have insurance coverage!
Feel free to click on the categories and keywords below to find more content as we add more to the website!