May 7th, 2021
By Dr. Scot Goldberg, MD
Advancements in medicine have made our lives better on Earth in so many ways over the centuries, and as with all technology it seems to be picking up pace.  Just look at how fast the Covid-19 vaccines were safely developed!  Please get yours by the way!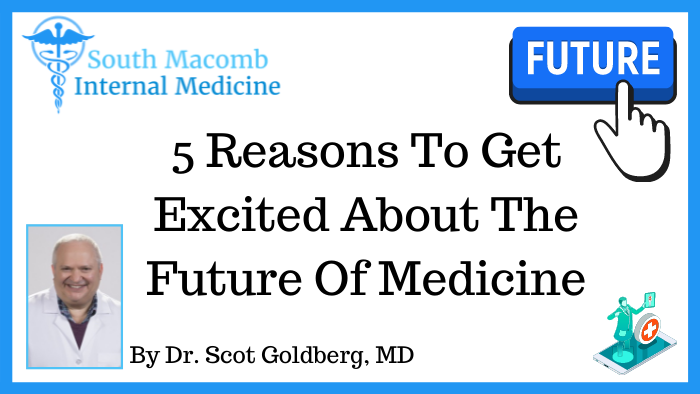 Meanwhile there are myriads of reasons to be optimistic and excited about new developments but here are a few articles that have caught our eye recently that we wanted to share in one place here on the blog.
5 Reasons To Get Excited About The Future Of Medicine
***************************************************************************************************************************
South Macomb Internal Medicine
28401 Hoover Rd.  Warren, Michigan 48093
Phone: (586) 276-7530
South Macomb Internal Medicine has been designated a Patient Centered Medical Home by Blue Cross Blue Shield of Michigan.
Join us on Facebook at facebook.com/SMIMdoc for updates, articles and fun!
Call us and ask to be added to our email newsletter that comes out every couple weeks!
Telehealth and virtual appointments are still available as well as nutritional services with Nanette Cameron, RDN. Don't forget to ask us for a $25 gift certificate along with a copy of Nanette Cameron's cookbook The Perfect Day for trying dietary services with Nanette the first time for patients who have insurance coverage! Nanette is also available virtually!
Feel free to click on the categories and keywords below to find more content as we add more to the website!