March 5th, 2022
As we MARCH towards Spring the weather is starting to show some signs of getting nicer, which means getting outdoors is more appealing!  You may want to go out for a walk or a jog.  You may want to get outside for a round of golf or a game of tennis.  The most recent Covid surge is receding and life is getting back to normal again.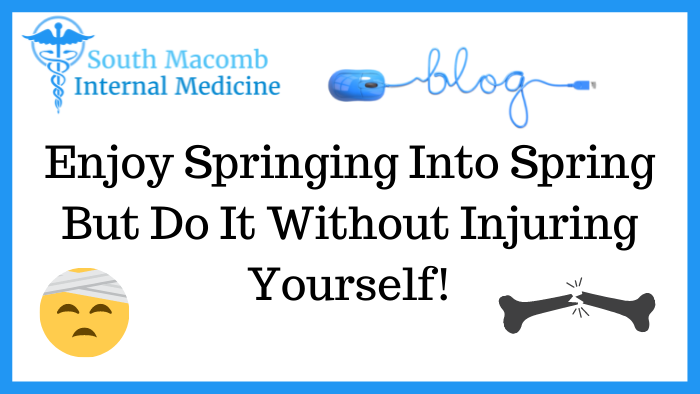 Springing Into Spring….
You know what else is normal around this time of year?
Bone and Muscle Injuries.
We are not orthopedic surgeons but we do see and treat plenty of bumps, scrapes, bruises and worse among a whole range of services that comes with the territory.  While we are glad to help which is what we're here for, we'd prefer that you also take precautions and proper care so that you can enjoy these activities with the least amount of risk to your health.
We often bounce around the Internet to supplement our topics with articles from respected medical organizations and here is a good one on avoiding joint injuries from Stanford Children's Health – it's not an article just for children and we hope you give it a read.  It's not long and there are good tips here.
Stay healthy friends!
***************************************************************************************************************************
South Macomb Internal Medicine
28401 Hoover Rd.  Warren, Michigan 48093
Phone: (586) 276-7530
South Macomb Internal Medicine has been designated a Patient Centered Medical Home by Blue Cross Blue Shield of Michigan.
Join us on Facebook at facebook.com/SMIMdoc for updates, articles and fun!
Call us and ask to be added to our email newsletter that comes out every couple weeks!
Telehealth and virtual appointments are still available.
Nutritional services are also available with Nanette Cameron, RDN. Don't forget to ask us for a $25 gift certificate for trying dietary services with Nanette the first time for patients who have insurance coverage!
Feel free to click on the categories and keywords below to find more content as we add more to the website!