March 18th, 2022
We have been focusing lately on the brain and specifically concussions in our Facebook content.  We are not neurosurgeons, but we do indeed see many bumps, bruises as well as cognitive concerns that we frequently address with patients and we do refer people to specialists, so we want to just call attention to your head to raise awareness so you take proper care!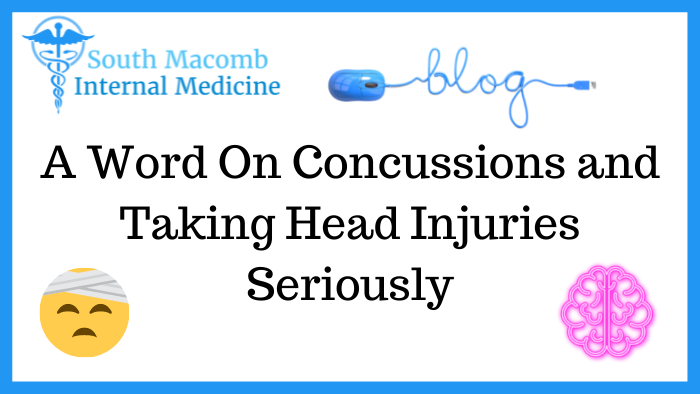 A Word On Concussions and Taking Head Injuries Seriously
This is a topic that has been in the news lately with the tragic passing of comedian Bob Saget who died after accidentally hitting the back of his head, and you are probably aware of the impact of concussions from athletics and football in particular which was given the Hollywood treatment in a movie called Concussion starring Will Smith.  Dr. John Torres, NBC's senior medical correspondent discussed recently warning signs to look for after hitting your head, and how to tell whether that simple bump may actually be more serious.  Please give that article a read – it's important.
This is also being discussed on Capitol Hill  with some referring to it as a brain injury epidemic.
So please be mindful of any symptoms if you bump your head and do not hesitate to seek medical attention!
***************************************************************************************************************************
South Macomb Internal Medicine
28401 Hoover Rd.  Warren, Michigan 48093
Phone: (586) 276-7530
South Macomb Internal Medicine has been designated a Patient Centered Medical Home by Blue Cross Blue Shield of Michigan.
Join us on Facebook at facebook.com/SMIMdoc for updates, articles and fun!
Call us and ask to be added to our email newsletter that comes out every couple weeks!
Telehealth and virtual appointments are still available.
Nutritional services are also available with Nanette Cameron, RDN. Don't forget to ask us for a $25 gift certificate for trying dietary services with Nanette the first time for patients who have insurance coverage!
Feel free to click on the categories and keywords below to find more content as we add more to the website!