September 10th, 2021
By Dr. Scot Goldberg, MD
Hello everyone!  I hope you are doing well, and we are introducing a series around how we work towards improving the patient experience!  A little background on this and some highlights of the initiative as outlined by Blue Cross Blue Shield of Michigan:
Medicare Star Ratings is a rating system developed by the Centers for Medicare & Medicaid Services to help consumers find the best Medicare Advantage plan for them. Blue Cross Blue Shield of Michigan has two MA plans – Medicare Plus Blue℠ for its PPO members and BCN Advantage℠ for its HMO members.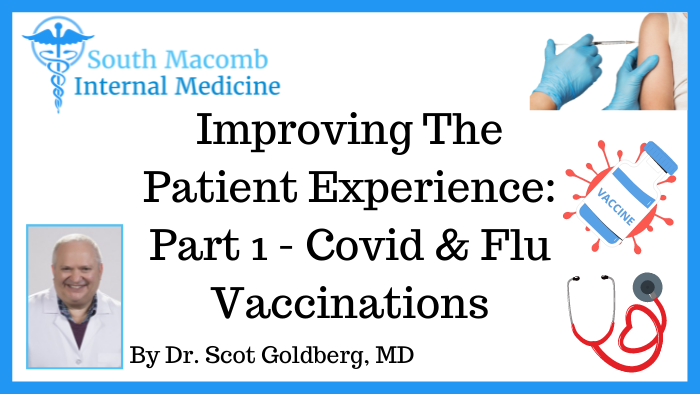 Improving The Patient Experience
CMS assesses a member's health plan experience through the Consumer Assessment of Healthcare Providers and Systems, or CAHPS, member survey. The survey asks patients to report on their experiences with a wide range of health care services. A large portion of the CAHPS survey is driven by the member's experience with his or her physician's team, including such things as follow-up on labs and imaging, and getting timely doctor appointments.
And, most importantly for patients, a positive patient experience results in better adherence to protocol, better relationships with health care providers and a feeling of mutual respect between them and their medical team.
Covid-19 and Flu Vaccines
We know that our entire team can affect the health of patients and how they assess their health care experience, so we are going to discuss a number of points of emphasis starting with Covid-19 and Flu vaccinations!
First let's talk about boosters.  The newest data coming out of Israel (which is administering the most boosters to date) is that they are very effective and safe.  We still are not sure if they are necessary because we haven't seen a big increase in cases among vaccinated individuals.  We are happy to discuss your options with you.
As for Flu – the high dose is in and available and they are first come first served for those aged 65 and over.  We expect an increase in flu this year since people aren't quite as socially distanced as they were at the height of the pandemic.
These are the types of very real questions that we know many of you have based on our interactions with you at our office.  We are doing our very best to keep up with the up to the minute data so that we can provide the best experience for our patients!  Check back for part 2 which will focus on hypertension!
Stay safe everyone! 
***************************************************************************************************************************
South Macomb Internal Medicine
28401 Hoover Rd.  Warren, Michigan 48093
Phone: (586) 276-7530
South Macomb Internal Medicine has been designated a Patient Centered Medical Home by Blue Cross Blue Shield of Michigan.
Join us on Facebook at facebook.com/SMIMdoc!
Feel free to click on the categories and keywords below to find more content as we add more to the website!