We recently posted an article on our Facebook page from themuse.com entitled 10 Reasons You Should Go To The Doctor (Even When You're Healthy).  It's a bit of a recurring theme we've returned to in the context of a COVID-19 pandemic that doesn't seem to want to completely go away (GET VACCINATED if you haven't yet – yes it's safe).  We don't want people to neglect any other health issues they may have that went untreated while they were home avoiding the virus for a year or so and Dr. Goldberg wrote about that too.  We want people to take care of their health and see their doctor even when they are healthy as the article states.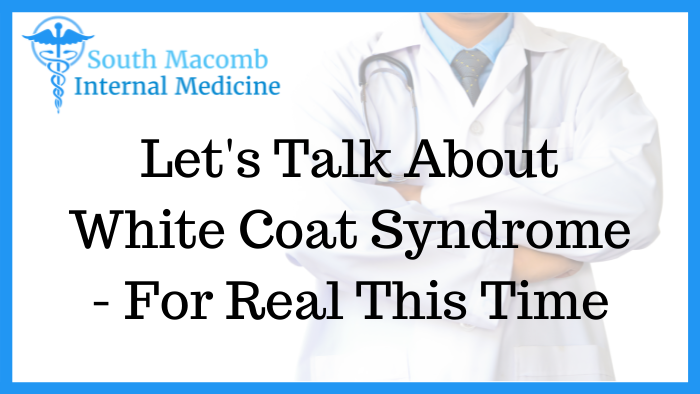 But maybe it's not that easy for everyone.
We've written about White Coat Syndrome before on this blog but the one time we made it a featured topic it was all in good fun with a humorous take on why you might have it.  However we do acknowledge (as we did in the humorous post) that it's certainly real for many and we want to explore that in a little more detail.
In our humorous post on the topic we included a link to this article from Medical News Today that goes into great detail about White Coat Syndrome – what it is, diagnoses, and even prevention, but that article is a little light on the prevention part.  We would like to point you to another one very thoughtfully written by a family practice in South Carolina called Thrive Family Medicine about how to overcome it with several actionable tips.  We hope this helps!  The last thing we would ever want to see is one of you avoiding a check up because of your anxiety over visiting the doctor's office.
Take care of yourselves, thank you for reading and we will see you soon!
***************************************************************************************************************************
South Macomb Internal Medicine
28401 Hoover Rd.  Warren, Michigan 48093
Phone: (586) 276-7530
South Macomb Internal Medicine has been designated a Patient Centered Medical Home by Blue Cross Blue Shield of Michigan.
Join us on Facebook at facebook.com/SMIMdoc for updates, articles and fun!
Call us and ask to be added to our email newsletter that comes out every couple weeks!
Telehealth and virtual appointments are still available.
Nutritional services are also available with Nanette Cameron, RDN. Don't forget to ask us for a $25 gift certificate for trying dietary services with Nanette the first time for patients who have insurance coverage!
Feel free to click on the categories and keywords below to find more content as we add more to the website!