December 17th, 2020
By Dr. Scot Goldberg, MD
Hello all!  So the situation around the COVID-19 pandemic remains fluid indeed.  We know this has been and continues to be tough on everyone and we aren't exempt from that by any means – we are all in this together.  But we are hopeful with vaccines now being distributed and we are proud that they are being produced in and shipped from Pfizer in Michigan!  Are we at the actual end of this pandemic?  No.  Is there light at the end of the tunnel?  We say yes!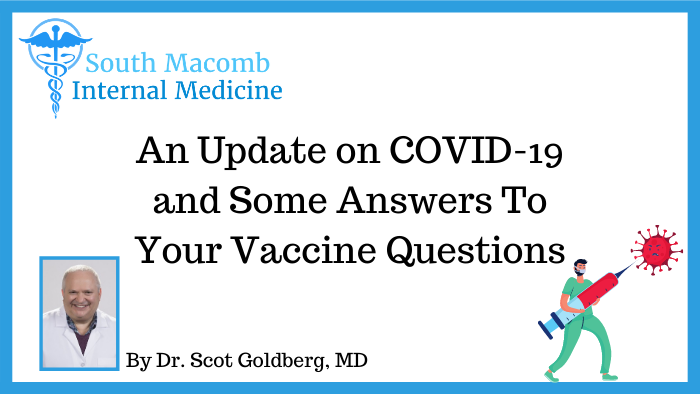 I have received numerous requests for information regarding the vaccine from many of you.  I have also received numerous emails from Ascension which is the hospital I am most affiliated with and although the coronavirus vaccine is getting into into Macomb County, it appears that it will first be delivered into the hospitals and given to front line workers such as in the ER, ICU and COVID floors.  Certainly this makes sense.  The people treating those with the virus and being exposed need to be protected.
Some Details On The COVID-19 Vaccine
Due to the logistics of storing the vaccine and the increased education needed for those that administer it I do not anticipate that we will be giving the vaccine out of our office.  I also anticipate that it will indeed still be several months for the doctors offices and the general population to get their vaccines as well, so we need to continue to make wise and safe choices individually per the CDC guidelines – all of us.  I do expect nursing homes and assisted care facilities that have high risk patients and staff to receive vaccines before our office and the general public receives theirs.
So as tough as this year has been, we need to be patient!  Easier said than done sure, but stay focused on the fact that this will indeed be temporary.  We will get through this and we hope that blog posts like these will be fascinating to read a few years from now in a "remember when" kind of way.  Stay safe everyone!  Call us when you need us – we are here to help.
***************************************************************************************************************************
South Macomb Internal Medicine
28401 Hoover Rd.  Warren, Michigan 48093
Phone: (586) 276-7530
South Macomb Internal Medicine has been designated a Patient Centered Medical Home by Blue Cross Blue Shield of Michigan.
Join us on Facebook at facebook.com/SMIMdoc!
Feel free to click on the categories and keywords below to find more content as we add more to the website!